About
About Mike Brennan
Mike grew up in picturesque Laguna Beach, California surrounded by artistic influence. He has been showing and selling his pottery since age 16, when he first exhibited at the Sawdust Festival. Encouraged by scholarships and awards, he pursued ceramics as his profession. He focused on Raku while at San Diego State University and the Art Institute of Southern California.
Mike has been featured at the World Famous Sawdust Festival located in Laguna Beach, CA for 30 years and is excited to participate again this summer of 2012.
Mike's work is individually thrown. He formulates his own glazes and relies mostly on instinct during firings. The spontaneity of raku, where earth, fire and nature meet, makes each piece on of a kind.
More about Mike and His Background
Mike is a driven potter, and he spends countless hours creating at his studio. His other passion is the beach, where he is an avid surfer and volleyball player.
Mike has received awards for his skills by the Catalina Island Art Show (Best Ceramics - 1995), The Van Gogh Orange Show (Best Ceramics - 1995) and The Sawdust Art Festival (Best Ceramist - 1999).
Mike's work can be seen in Wolfgang Puck's upscale restaurants and the the new Palm's Hotel in Las Vegas. He was also commissioned to do awards for Chapman University Entrepreneurs (1996) and numerous Gotcha and Billabong National Surf Contests (1996-2001).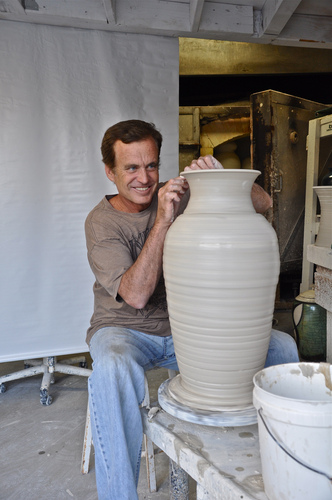 Come See Me at Laguna Beach's Famous Sawdust Festival
Starting June 30th, 2012 I will be featuring my work all summer long at the world known Sawdust Festival in Laguna Beach, CA.
My Contact Information
Sawdust Festival